CHAPMAN ALARMS INC. is committed to quality and professionalism.

There was a time when the term "American Made" had a meaning of quality and reliability. We hold true to the old values of honesty and quality, while leading the area in security technology and innovation.

WHAT YOU CAN EXPECT:
Peace of mind
Everyday convenience and control
A system customized to fit your needs
Prompt service
Reasonable rates
Insurance rate reduction is often offered by insurance companies when the home or business owner has a burglar & fire detection system installed and monitored.

L

et us visit your home or business to evaluate your security needs. Our sales representative is knowledgeable and courteous. We are interested in listening to your needs and designing a system that is right for your requirements. You will not be pressured into any commitment. We deplore fast talking high pressure salesmen. After listening to your needs, we will make suggestion and help council you in a professional manner.

Proper system design is the foundation to a successful, trouble free system. This coupled with pains-taking proper installation, and accompanied by the industries best products will provide you with years of trouble free, and dependable security.

Your home can be monitored 24 hours per day, 365 days a year.

Call today for a free estimate!

251-275-3321

or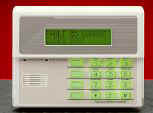 Full Custom Control of Your Security
The Keypad is the device you use to control your security system. You want to make sure that it is easy to understand and simple to use. ADEMCO's custom English display keypad is just that. In plain English, it will tell you everything you need to know when operating your system.


Simple, Convenient Operation
Wanting to make security even MORE user friendly, ADEMCO has designed wireless keyswitches for your convenience. Small enough to place on your keychain and carry in your pocket it allows you to arm and disarm your system with the press of a single button. Insider or Outside your home or business. It can even control garage doors and lights. How's that for convenience?


Safety Inside and Outside Your Home or Business
Worried that something may happen to you inside or outside your home or business? Concerned that you may not be able to get help in time? This wireless panic button is small enough to put in your pocket, hang on a chain around your neck, or drop into a purse. Press the button and either law enforcement or emergency personal will be quickly notified.